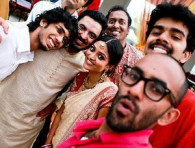 March 10
AUTHOR: Admin // CATEGORY: Blog
Hi there, visitor. Just a little about the team at The Wedding Flicks.
We don't just love shooting weddings, we love everything about them. The rituals, the colours, the music, THE FOOD, the people, the sounds, the smells, yes, EVERYTHING. This blog will show you just how much 😀
We also take photographs of weddings we shoot. If you would like to see our photography, do checkout out Anup J Kat for more. We work best when its just us and the wedding couple, making it an event to remember.